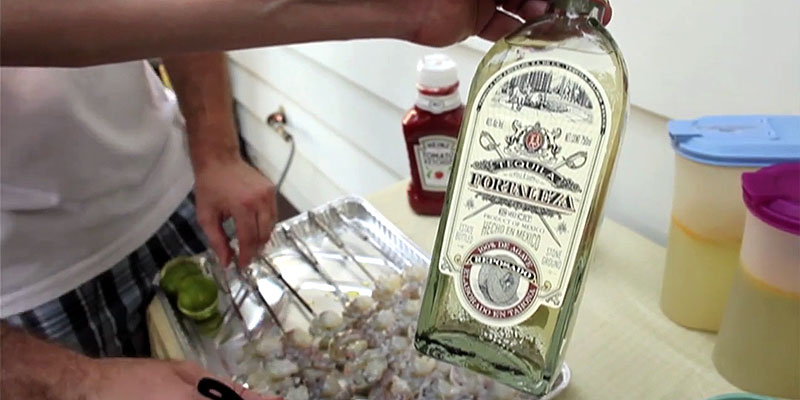 Grover from TasteTequila.com was in New York City just in time for a crazy heat wave. What better way to spend a 100+ degree day than to hover over a smokey BBQ grill, tequila in-hand, surrounded by friends?
His friend and co-worker Andrew Fingerman  busted out a recipe using Fortaleza reposado and jumbo tiger prawns from Vietnam.
Andrew is an expert grillmaster – he is a trusted source for all grilling-related questions and strategies.
"The key, when you put the shrimp on the grill, is not to let it sit there for too long," he said.
He only leaves it on the grill for 2-3 minutes for each side.
The result was a deliciously fresh and snappy shrimp with a hint of aged tequila flavor – mostly on the finish.
Highly recommended!
Tequila Glazed BBQ Shrimp
1.) Clean and devein shrimp (uncooked)
2.) Place 5 or 6 of the shrimp on each skewer (preferably metal)
3.) Pre-heat the grill
4.) Baste both sides with a light coating of olive oil
5.) Lightly salt and pepper the shrimp just before you put it on the grill
6.) Place the skewers on the grill, close the lid and cook for about 2 minutes
7.) Flip the shrimp over, and brush on the tequila (reposado) with a basting brush. Cook for 2 minutes with the grill open.
8.) Brush on another coat of tequila, and then immediately flip the shrimp over again.
9.) Brush another coat of tequila on the first side and immediately turn again.
10.) Squeeze lime on each side, and remove from the grill.
11.) Serve immediately!
Thank you, Andrew!